When diarising anything in September you first consult the footy fixture.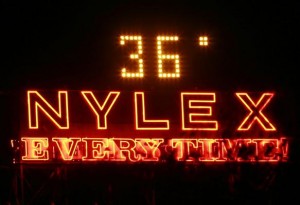 You were shocked when you found out not all street directories are called Melway.
When everyone knows where a bar, cafe or restaurant is you no longer want to go there.
You've read The Slap and you hate all the characters despite the fact they remind you of all your friends. And you would have slapped the kid too.
You know Sunshine, Rosebud and the Caribbean Gardens are not as good as they sound.
You consider yourself a socialist yet you drive a European car and have a cleaner.
You'd rather sit next to Guy Rundle on a plane than Guy Pearce.
You've attended a children's party that had rice-paper rolls, cous cous salad, croquembouche and a pinata.
You or someone you know has received a grant.
It's not Noosa, it's Noysa. And it's not snow it's the snoy. And it's Malvern now, not Chadstone, thanks to rezoning.
You refer to rococo furniture as 'Very Franco Cozzo'.
You felt betrayed when you discovered Melbourne was not the only place in the world with trams.
If I say Jennifer Kyte and Johnny Diesel you know exactly what I'm talking about.
You think the slogan on our licence plates should be 'Melbourne. The Coffee Is Shit Anywhere Else', 'Melbourne. Go To Sydney. We Hate Tourists' or 'Melbourne. What School Did You Go To?'
You know the word "Moomba" means Up Your Bum, White Man.
You're not happy Melbourne has been voted the World's Most Liveable City. You'd prefer it was voted 'Most Enigmatic, Tortured And Slightly Dangerous City'.
You think the only person who looks good with a moustache is Ron Barassi.
You've looked out the window of Puffing Billy and waved like an idiot at the cars at the railway crossing. And you've watched Puffing Billy pass as you sat in a car at the railway crossing, and waved like an idiot.
You think beyondblue does great work but you hate the way it makes Jeff Kennett look good. Which is depressing.
Any music by Paul Kelly makes you suddenly think of the Nylex sign and something about making gravy.
When you meet someone from Kew, you always ask 'Near Kew?'
Jon Faine shits you but you can't switch him off.
You've been to the Royal Melbourne Show and the scariest ride is the train home.
You don't get the jokes about the Yarra. Or Melbourne weather.
When you hear the word "Bougainville" you think of Northland.
You don't judge people on their looks, wealth or status but on the bread they buy, the coffee they serve and the newspaper they read.
You know a kid with two mummies. Both called Roz.  Who live in Northcote.
You pretend the Sydney-Melbourne rivalry doesn't exist. Which it doesn't. Because Sydney doesn't care. And that really shits you.
You brag Melbourne is the creative capital of Australia, but your walls are full of signed football jumpers.
When someone says thanks you say, 'No Dromanas.'
When you hear the word "Easter" the first thing you think of is the Royal Children's Hospital Appeal and Zig and Zag. And then you quickly think of something else.
If someone is referred to as a "showbag" you know it means they're cheap and full of shit.
Your kid's favourite foods are sushi, spanakopita and felafel. Which are also the names of the three kids they sit next to at school.
If a friend gets a new boyfriend or girlfriend, your first question is, "Who do they barrack for?"
You think if we all ignore Federation Square, Docklands and Robert Doyle they'll go away.
You can list all the ingredients in pesto. And you're three years old.
Cup Day. Gambling at 9am. Drunk by noon. Broke at 3.20pm. Asleep by 4pm. Hungover at 5pm. All while at work.
You think Aberfeldie is a tartan, Coonan's Hill is a wine and South Wharf is in Sydney.
Chopper Read, Ned Kelly, Squizzy Taylor, the Morans and the Williamses. Sure they're crims, but we all agree they've given the place colour.
You lose respect for friends if they move over the other side of the river.
When holding a dinner party, you know the point is to serve food no one has ever heard of, from a country people didn't know existed, bought from a little shop they'll never be able to find.
You were against the casino but, you have to admit, it does keep the bogans out of the city.
Pot, cantaloupe, potato cake and hook turn. Build a bridge and get over it.
… you really know you're if Melbourne if….
You've never been to Adelaide yet you make jokes about their tap water, serial killers and Rundle Mall.
You think the Queen Vic Market opening hours are normal.
You assume flavoured milk is called BIG M everywhere.
You know what the words apropos, gentrification and barista mean. 
You or someone you know has been to or plans to go to a concert of a washed out Rock Legend at a winery in the Yarra Valley.
You feel sorry for Geelong
You think nothing of calling your son Hugo, Elliot or Atticus. Or your daughter Scout, Joss or Maeve. 
You've stepped on an emo walking into Flinders Street station.
At some point you have enlisted the services of The Tint Professor, The Dashboard Doctor or The Swagman  been to Car City, Pick a Part or Doors Galore  and consider Whelan the Wrecker, Harry The Hirer and Peter the Possom Man members of the family.
You grow the hair under your arms but wax your growler.
You think a CBD street map laid out like tartan and lanes full of people eating breakfast while sitting on milk crates at 3pm is normal.
The sight of drunk women staggering around the city wearing short strappy dresses  and facinators with their shoes slung over their shoulder at 5pm means only one thing. It's Oaks Day.
You claim to have lived in one of the houses from Helen Garner's Monkey Grip, next to Frank Thring or across the road from the guy who made Harvey Crumpet.
You know blondes don't have more fun, because Shane Warne dyes his hair.
You've lived in London, been to conferences in Paris, holidayed in Rome and know New York like the back of your hand but you've never seen the penguins at Phillip Island.
 A suburb is defined as cool when it has junkies and Pilates.  And the appearance of a juice bar means the real estate is out of your budget.
You love that Nick Cave, Barry Humphres and Rachel Griffiths are ours but you don't like owning up to Kylie Minogue or Daryl Somers.
You think a massage with a happy ending means when you're finished they give you a café latte and a Readings voucher.
Unless you have cousins who live there it's only because of the Trading Post that you know where Diggers Rest, Chirnside Park and Niddrie are. 
You only have two colours in your wardrobe black and the new black.
You hope the Eureka Tower loses it's claim as the tallest building in the Southern Hemisphere and that the Southern Star Wheel never gets fixed because we don't want Melbourne showing off like Sydney.  And if it stays broken we can call it an installation.
You don't think there's anything strange about the fact there's a South Morang but no Morang, Moonee Ponds with no ponds and that Bayswater has no bay and no water.
You take Japanese students to the Coburg Drive-in for the cultural experience.
You don't mind graffiti as long as it's spelt correctly and uses appropriate grammar while sticking it to the man and written by a woman.
Bacchus Marsh Lion Safari, Kryal Castle, Soveriegn Hill, Wobbies World, Gumbaya Park; ah, school holidays in the 70s. 
Your husband wears a sarong, is in a book group and you think nothing of buying him moisturizer. But you call him your partner, not your husband. Either because you're not married or because you don't want people to think you are.
South Melbourne Market means only one thing. Giant chicken dim sims.
The only street you know in Richmond is Bendigo Street. And you know the postcode is 3121
You hate it when they've shot a car chase in Melbourne and Sydney and the editing jumps between the two cities.  Like we won't notice.
You've never solved the mystery of how WEG always correctly predicted who would win the Grand Final when he drew his Grand Final souvenir poster.
You have a friend in a band. Or says they're in a band.
You know the difference between Carlton and North Carlton, Heidleberg and West Heidleberg and Mallvern and East Malvern is about $120,000.
You don't think it at all strange that you know where all your friends went to school and you still refer to it even though you're 60.
Your favorite joke is Pakenham upper.
You're proud the Melbourne word bogan has finanally officially taken over as the Australian definaition of bevans, westies, yobbos and white trash. 
You only buy The Big Issue if other people are watching.
You love that only Melbourne people will get this quiz.