BOOK CATHERINE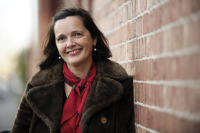 Organizing a conference, keynote speaker, function, debate, panel, personal development day or a bit of entertainment for the AGM? Need an MC with 20 years of experience and hundreds of happy clients behind her? You've just found her.
Need some color, laughs, warmth and energy? An engaging, informed, thought provoking speaker who can read a room and deliver to a brief? Click here.
Catherine Deveny is one of Australia's busiest and most highly regarded professional speakers. She lectures, emcees, debates, facilitates and performs stand-up comedy for tens of thousands of people a year. She speaks on a diverse range of topics from new and old media, changing family and work life, cycling, feminism, disability, mental illness, comedy and inspirational presentations based on her own life.
Here's what some of her delighted clients have to say about her: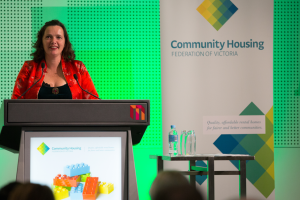 "It was great to have Catherine address our Year 9 students during Literacy Week. Her ability to keep the students engaged with down-to-earth advice, and relatable experiences about writing and life in general, proved to hit the mark."
Goff Ripoli
Reservoir High School
"I booked Catherine for a lunch event that I organised to celebrate and inspire women to love themselves just as they are. Having read many of her statements about body confidence and rebelling against the mainstream media that heavily influences the way women treat themselves, I knew she'd be the ideal guest speaker. I was right. My guests loved her. She recounted her own stories and wisdom in such a way that had the group readily interacting with her. She inspired our room and happily joined in as a lunch guest when her presentation was over. She was the perfect blend of comedian, presenter, wise-woman and MC. Exactly what I ordered! I am scrambling to find an excuse to book her again…and again. The more people that are exposed to Dev the better as far as I'm concerned!"
Kim Cowen, Simply Kim, www.simplykim.com.au
"Catherine was a wonderful facilitator for our Annual Research Forum. We all so enjoyed working with her throughout the planning process and on the day. Catherine's generosity, warmth and humour were very much appreciated and certainly helped make the day the success that it was. Our attendees were unanimous in their positive feedback, a typical comment was "Catherine was energetic, entertaining and honest".

Dr Miranda Xhilaga, Prostate Cancer Foundation of Australia (PCFA) & Dr Kathy Nielsen, Ovarian Cancer Australia
"We asked Catherine to perform a personalised comedy set at our workplace EOFY event.
We are utterly charmed by her wit, frankness and overall magnetism. Her biting, hilarious commentary is filled with heart.
Catherine provided us with a truly bespoke set. She invested her time and energy before the performance, learning about her audience and the particular quirks and in-jokes of our workplace. Her jokes were perfectly tailored to us and raucously funny.
We thank her immensely. We would have her back in a heartbeat."
James Lainas – KHQ Lawyers
"Catherine Deveny joined us with less than 24 hours notice, stepping in for Nelly Thomas who is 6 months pregnant, battling a nasty flu and under strict doctors orders to stay in bed. Catherine certainly delivered an amazing performance. She was vibrant, exciting, hilarious but also provided reflection about life and our neighbours and the importance of looking after each other. A perfect fit for our audience and the charity we were raising funds for."
Jody Allatt & Silla Moller – Bellevue Philanthropy
"We engaged Catherine to MC our Professional Development Day on the advice of a Member. We had her back the next year due to demand! Exhibiting an understanding of the audience and topic matter, while balancing compassion, enthusiasm, wit, and humor in appropriate doses, I have no doubt Catherine contributed to the 25% rise in attendance in one year. Highly recommended."
Gabriel Silver, President, Victorian Association of Research Nurses, ANMF SIG.
"The audience was thoroughly entertained, informed and inspired: she consistently disarmed all with her wit and candidness"
Caitlin Malcolm, National Gallery of Victoria
"Putting Catherine Deveny in a room with a group of PhD candidates to talk about communicating their research findings to the general public brings the phrase 'cat amongst the pigeons' to mind. It certainly made for some very nervous postgraduates. However, two hours later you'd have been hard pressed to find a more inspired, motivated and generally switched on bunch, ready to take on the world and make a real difference. Thanks, Catherine!"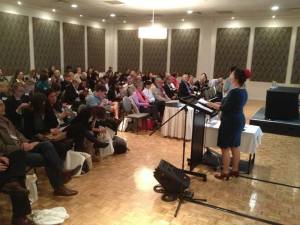 Simon Clews, Director Writing Centre for Scholars and Researchers
The University of Melbourne
"Catherine Deveny is what every festival needs – a firecracker – albeit a well-organised, well-prepared and professional firecracker!"
Rosemary Cameron, Festival Director and CEO, Melbourne Writers Festival
"Catherine is the perfect Q and A guest. Smart, funny, informed and engaging."
Tony Jones, Q & A, ABC
"Deveny live, is just like you want and expect her to be: smart, funny, iconoclastic and dangerous."
Elly Varrenti, ABC Radio National
"I write with our wholehearted thanks to you for your hilarious and intelligent arguments as a debater."
Suzanne Gasper, State Library of Victoria
"Thank you Catherine so very much for presenting the masterclass at the state conference. The participants really valued the experience, and the feedback has been overwhelmingly positive. In fact, a few participants said that it was the highlight of the Victorian Association for the Teaching of English 2010 conference."
Kate Gillespie, Education Officer The Victorian Association for the Teaching of English (READ MORE)
"On behalf of everyone at Vajrayana Institute, thank you so much for being involved in Mind & Its Potential 2010. Your chairing we superlative – very entertaining at the same time grounded in the subject matter for the conference. Lots of delegates have mentioned you on their feedback sheets – here is a sample quote: "Catherine Deveny – wonderful chair."
Heidi Erickson, Psychologist
Jeanette Large, Victorian Women's Housing Association
"Catherine was responsive to her audience and really appropriate for our event. She was able to tailor her presentation to our groups needs and was thoroughly enjoyed by all"
Sarah Rosenberg, ARAFEMI (30th Anniversary)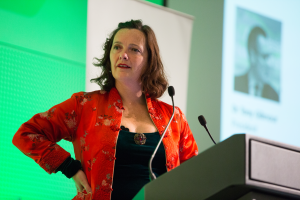 "Catherine Deveny had us laughing and quietly crying, such extremes of emotion all in such a short space of time. The empathy of Catherine to tell it like it is in life had us reflecting on our topic of connection. When the session drew to a close we just wanted more but had to survive on the memories and the sharing later of how good the session made us feel. All 180 participants would be keen to share the moment again with Catherine, such was the caliber of the presentation. Thanks Catherine."
Fiona Rowe, Business Manager, Ranfurly Primary School
"We have invited Catherine back to host our events again and again because she never fails to delight. Armed with razor sharp wit and a vivacious nature, she crushes all awkwardness and leaves a charmed and laughing audience in her wake. Catherine never shies away from a challenging topic and faces such moments with candid honesty. She is truly a gem of a host for any occasion. "
Kate Murray, Sunday Assembly
"Catherine Deveny has been a partner at the Squeaky Wheel's Pushy Women Campaign for many years. She has been the host and producer of our annual Pushy Women Show as well as a patron for many programs we've been running to encourage women to ride a bicycle in an un-competitive and inclusive environment. Working with Catherine is more then a partnership for the Squeaky Wheel. She is a friend and we cherish every bit of our relationship with her. She is charming, professional, hilarious and an inspiration for all the women in the community."
Jette Achleitner
"It was an absolute treat to have Catherine's workshop as part of our Making it in Moreland Professional Development Program. Her session booked out within a couple of days and the feedback from participants was absolutely glowing. A gem, I'd have her back any day."
Emma Hutchinson, Arts Officer, Moreland City Council
"Catherine not only makes you laugh, she makes you think. You'll squirm, grit your teeth or smile your head off, as challenges common world views and norms with brutal honesty and her very naughty Melbourne sense of humour.
Catherine's passion for helping others is what you remember most – I don't think there was a single guest who didn't walk away in awe.
Tea Tree Gully Library would welcome this sexy whip cracker back any day."
Penny Cowell
"Catherine was a wonderful choice to facilitate the Peer Conference discussion panel.  She really did her homework, and was more than able to facilitate an engaging, thought-provoking and amusing conversation between the panel and audience. She injected a fabulous dose of energy into the closing session of the conference; no mean feat. Feedback was resoundingly positive – it was a great pleasure to have Catherine involved. Thanks!
Centre For Excellence In Peer Support Conference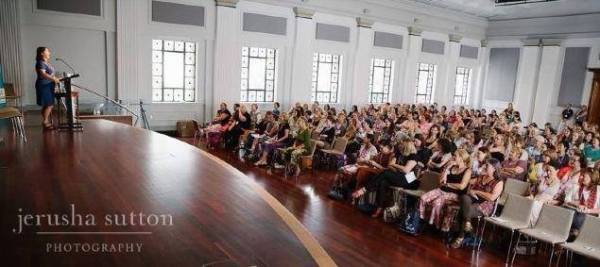 "Catherine brought humour, humility and heart to the inaugural Not-For-Profit People Conference as our emcee. A big whopping thank you from the team at Ethicaljobs.com.au!"
Krystal Cox, Not For Profit People Conference 2013
"Catherine spoke at one of our monthly events and it was hilarious, personal, open, honest, anecdotal and rational."
Terry Kelly, President Victorian Skeptics
"Catherine was a fantastic emcee for a great mix of professional and warm, smart, funny and very responsive to the specific themes of the day. She had the audience eating out of her hand from the start and integrated last minute changes without missing a beat. She took the job seriously and really provided the glue for our event."
Marie Baird, Centre for Adult Education (CAE)
"Melbourne's Sustainable Living Festival hit full throttle as Catherine Deveny took the driver's seat as moderator. Catherine entertained the crowd with her unique mix of shock comedy and intellectual humour."
Ken Beer, Young Engineers Australia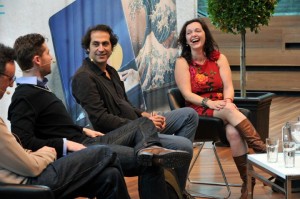 "Catherine Deveny is a superb speaker. Funny, outrageous, and acute, she had her audience totally engaged. She knows how to entertain, but she also knows how to make people think, and to see things differently."
Associate Professor David McCooey, Deakin University
"She filled the Courthouse to capacity and the audience was absolutely captivated with her. Catherine's ability to talk on almost any subject, humorously as well as sincerely, without notes, was brilliant."
Averil Dickenson, Daylesford Words in Winter Festival
"Catherine's presentation was both thought provoking and insightful. She had us all in fits of laughter one minute and in tears the next."
Helen Hatherly, Australian Association of Special Education
"My Professional Writing students in their evaluations of the course claimed Catherine as one of the outstanding highlights of the Semester. These students are hard markers and can spot a phoney at a thousand paces. We'll keep on getting her out to Vic Uni as long as she keeps kicking – and boy can she kick!"
Michael Hyde Lecturer, Faculty of Arts, Education & Human Development, Victoria University
"Her generosity and continued commitment to the women with whom we work, is demonstrated by the comments she makes on these occasions. She always manages to judge the audience perfectly and use humour beautifully, mixed with some serious messages that support our work and clearly reflect a strong value alignment with the organisation. Her warmth and her energy are always instrumental in ensuring that every occasion she MCs for Fitted for Work is a great success."
Marion Webster, Founder and National Chair Fitted for Work
"When going about organising an awareness event recently for a little known yet seriously debilitating illness, Lyme Disease, we knew that the role of host would require someone articulate, compassionate and sincerely motivated to help highlight an important cause. Catherine was clearly the perfect choice. 
From the very start she was engaged and curious about Lyme and willingly took on the task of playing intermediary between the Lyme Nerds (myself and my colleagues) and the Lyme Curious who attended our event. Her warmth, wit and insight were integral to facilitating discussion on the important themes raised at the event. We would happily recommend her as host for any event requiring a skilled and engaging facilitator. Thanks Catherine!"
Zoe Allardice (Lyme patient and volunteer for the Lyme Disease Association of Australia)
We engaged Catherine to walk the talk for International Women's day 2017.
The theme this year was "Be Bold for Change".
I could not think of a single person who could facilitate such a lively authentic discussion on gender equity.
Catherine was inclusive in her facilitation conversations with our other panel members and made them all feel quite at home.
I personally love Catherine's work as an artist, writer, performer and had no doubts about hiring her for this event.
So 'Be Bold' and make a booking –you will not regret it!
Our event truly came to life, our guests were inspired to make changes and people are still talking about it.
Thanks again CD
Robyn Lucas – Surf Coast Shire Council