A Myth-Busting, No-Fear Approach To Writing.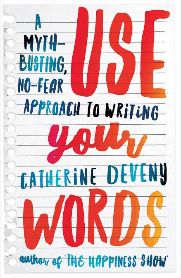 Want to write? Got a memoir, novel, screenplay or blog in your back drawer? Need to get 'unstuck'? This is the magic pill you've been looking for.
Read some lovely things about the book here, here, here and here, a fab piece about the launch and check out the launch photos and audio of the fabulous speeches.
In Use Your Words writer and comedian Catherine Deveny reveals the secrets that have made her 'Gunnas' Writing Masterclasses sell-out successes around the country. With humour and passion, she explains the struggles all writers face and reveals how to overcome them.
Whether you're already published or just starting out, writing for others or purely for self-expression, Use Your Words has the tips, tricks, techniques and honest truths to get you writing. You'll learn how creativity is like a vending machine, how writing is like a magnet and how not to die with your light inside you.
You should come to a Gunnas Writing Masterclass, check out The Writer's Mug and buy a Get Writing No EXCUSE Poster.
Wait no longer – smash through procrastination and fear and get those words on the page.
Buy the eBook:
Praise for Use Your Words:
'Everyone has a book in them. Before you write yours, however, read this. It's brilliant. The world will thank you.' —Clare Bowditch
'Finally the truth about writing! Buy this book if you want to get the job done.' —Chrissie Swan
'An insightful, funny, honest how-to, go-do, firecracker-up-you bible for the emerging and established author alike. Buy it, read it, and WRITE.' —Maxine Beneba Clarke
'Catherine Deveny's no-nonsense attitude and comedic genius make learning fun. If you've always wanted to write but never thought you could, banish those thoughts right now.' —Clementine Ford
'As practical and profane as the woman who wrote it.' —Benjamin Law
'The most readable book on writing ever written.' —Dee Madigan