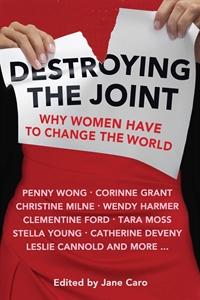 Featuring Destroying the Joint in Twelve Easy Lessons by Catherine Deveny
A fabulously provocative collection by women ready to destroy the joint.
In 2012, Prime Minister Julia Gillard said a society needs the political participation of women to reach its full potential. Commentator Allan Jones reacted to his by saying: 'Women are destroying the joint . . . Honestly.'
People around the country responded with passion, disbelief and hilarity. In Destroying the Joint: Why Women Have to Change the World, Australian women reply to Jones's comment and the broader issues of sexism and misogyny in our culture.
Edited by Jane Caro, this entertaining and thought-provoking collection includes essays, analysis, memoir, fiction, satire, polemic and tweets from some of our best and brightest.
Available as paperback, kindle e-book and iTunes e-book.