The Gunnas Writing Masterclass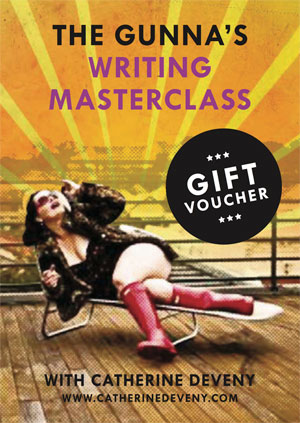 Gunna write? Gunna write better, different, more or that project you're blocked on?
Let me give you the magic pill and provide you with that creative enema you need. I'm the midwife to help you birth your creative baby. You need to come to my one day writing masterclass at La Luna Bistro. Great people, delicious food, magnificent day. This masterclass is for beginners, amateurs  and professionals (on average we end up with 30% of each and 10% randoms)
NEWS JUST IN!
Gunnas Weekend Writing Retreat! Two dates, March and June . Click here for more info. More retreat dates coming soon.
Can't make it? I've even written a book about writing called Use Your Words just for you!
Need payment options, want to do direct debit or pay cash? Sorted. Send me an email.
Brisbane, Sydney, Canberra, Adelaide, Perth,  Apollo Bay and Gunnas Self-Publishing with Julie Postance all here.  Read some testimonials for  Gunnas Self-Publishing Masterclass with Julie Postance here!
Hop on my mailing list to stay up to date with all the new classes and dates here.
Looking for a perfect present for that frustrated writer in your life? We have Gunnas Writing Masterclass Gift Certificates! Buy one online then contact me and I will snail mail you out a beautiful print certificate or email you or your lucky recipient an email version. Purchase here!
And we now have a Facebook page so you can keep up to date with the latest! LIKE US. We love you!
Gunnas: 3 parts writing advice and amazing inspiration, 1 part catering and 1 part cleavage. Not to be missed, especially the boobs – Vanessa Burt
Have a read of what some of the other Gunnas have had to say about the workshop here. Read a review of the masterclass here,  here and here and here and here and here check out some of the student's writing.
Check out Gunnas Advanced Testimonials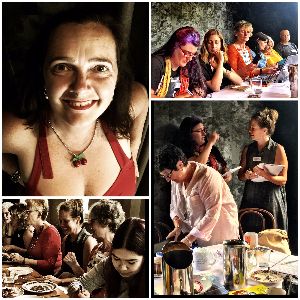 Pull you finger out and get your shit together. No excuses. Don't be thinking this time next year 'I should have done that bloody masterclass. Because another year has gone by and I still haven't written anything'. Have a listen to me talk motivation and writing here .
The most common and pointless behaviour is do do the same thing and expect different results. And better still you get to eat incredible food, meet awesome people and have a cracking day.
Come to  Gunna's Writing Masterclass' at LA LUNA BISTRO CARLTON. No experience necessary! These classes suit beginners to advanced.
Would your organisation, group or school like me to do a Gunnas for you? Contact me. I also do one on one writing and motivation sessions. Drop me a line.
Know how you've been promising yourself you'd start writing, finish that novel, get on with that screenplay, write you memoir, knock up a collection of your best dinner party yarns, get that blog up, start writing your comedy festival show, break the back of that 'how to' book?
Jump and the net will appear ~ Julia Cameron
Do it!
Full $290/$250 Conc/student/unemployed/under employed/artist/povo
Contact me for a certificate if you have already attended a Gunnas (Gunnas and Gunnas ADVANCED are different. Each count as 6 hours. So if you do both it's 12 hours.)
Gunnas Writing Masterclass FAQ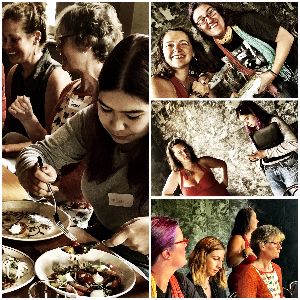 Do I need to bring anything? Something to write with or on. Laptop, iPad, pen and paper.
Do I have to share my work, read it aloud or publish my writing? No. You are welcome to but it's totally up to you. 60% do.
What time does it start and finish? 10am-4pm (special back to school one for the mums and dads now at the kid friendly time of 9.30am-3pm early Feb.)
Is this the perfect gift? Yes.
I am vegan, kosher, gluten free, lactose intolerant. Is that okay? OK? It's perfect. We cater for all dietary requirements.
Do I need to need to bring anything I have written? NO. Beginners welcome. Bring just the will to write.
I'm a teacher, does this count as professional development hours? Yes it does. Six hours a class. I give you a certificate at the end of the class.
I write for a living. Is this for me? Totally. I get EVERYONE in the class. Truck drivers and teenage singer songwriters, women who've never worked out of the house, people who have never written, published authors, Phd candidates, copywriters, stand ups, journos and even a newsreader! Lots of psychologists and teachers, teenage singer songwriters even a helicopter pilot. It's about people who are gunna write, gunna write better, more or different or people who are gunna write that project they have been putting off.
Is the masterclass just for creative writers? God no! It's for any kind of writer. Blog. Memoir. Column. Screenplay. Standup. Telly, Sci Fi. Whatever. It's about singing from your heart, overcoming procrastination and not getting blocked by what you assume other people will think.
Am I going to eat the best food I ever have in my life? Yes. The food is delicious, coffee is gorgeous, sweets to die for.
I'm a stand-up, copywriter, Phd candidate, published author, shoe maker, taxi driver is this for me?
Yep. Sure is. I have had heaps of these in every Gunnas.
We put obstacles in front of our happiness they are distraction, procrastination and self doubt.
Satisfaction is what makes us happy, not distraction.
There is no effort without error.
80% of success is just turning up.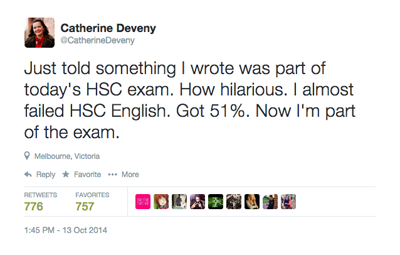 The day is about far more than writing. It's about not dying with your music inside you.
The Gunnas Writing Masterclass is my response to the quote 'the saddest face is what might have been' and the WH Auden quote 'Death is the sound of distant thunder at a picnic'.
Come. Money back guarantee.
Question? Ask! Send me an CONTACT
Here are what people have said about coming to Gunnas.
Brilliant, brilliant writing class today> This is without a doubt the most useful, practical and inspiring writing class I've been to. And believe me, I've been to a few. It's not only given me the tools to actually do the work, the drive get down and write, but the food is amazing and the people fabulous. You'd be a dickhead not to do it.
Victoria Strike
Nobody gets your juices flowing like Catherine, creatively that is. At any level you come out her class with no excuses and all the energy you need to write from a pamphlet to a novel. One of the most creative days I've seen in ages.
Simon Palomares
The Gunnas Masterclass is like an enema for your muse! Catherine inspires, provokes and dammit makes you write!" Not a "how to" class but a "do it" class. Deveny dismantles all the lies we tell ourselves about why we can't write and before you know it there are words on the page. The Gunnas Masterclass is equal parts inspiration, creativity and yummy food."
Jules Wilkinson
In a single day she gave us an enormous amount of advice about writing including methods for fighting procrastination and perfectionism. Her enthusiasm for her craft is contagious and I would highly recommend her Masterclass to any budding writers.
Jane Pemberton
I began running the odd masterclasses for The Monthly, Sydney Writer's Festival, Byron Bay Writer's Festival, Writers Victoria etc and they were so successful, useful and exhilarating, I want to help people with their New Year's Resolution and provide a magnificent, delicious and unforgettable (carbon neutral!) gift.
Thought I'd only be able to fill two classes. Here I am less than a year later and almost 400 people have attended my Gunnas Masterclasses. I love it. Here is some of the food. All dietary requirements are catered for. CONTACT me if you like.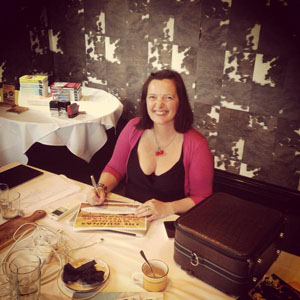 I love cracking the whip and getting people to make their heart sing. I can't bear the thought that people die with their music still inside them.
The Gunna's Writing Class will run 10am-4pm and places are be limited. A beautiful day sitting in the upstairs room at La Luna Bistro looking out the window through the Plane trees over the Carlton streets many of our finest and most loved writers have walked, cycled and pondered along. Go on! You know you want to!
Make this the year of finally bloody writing and no longer just talking about it. For you or someone you love! There is no better start to the year.
Book HERE.
Any questions or preferred dates? CONTACT me.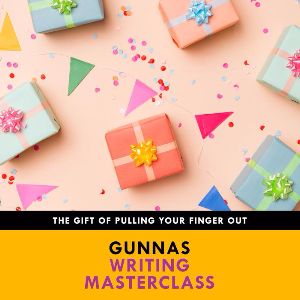 What really rings my bells, floats my boat and puts jam in my donut is running these Gunnas Masterclasses. It's always an awesome day; stimulating, satisfying, productive, buzzy… a creative laxative. A motivational enema. A fun day in a room with a bunch of other writers wanting to get over themselves, sing fron their heart and pull their fingers out! Not just learning, friendships, writing collaborations, love affairs and a baby have developed from my masterclasses! From corporate to sit-com writers. From budding columnists to memoirists. From technical writing to stand up. Come one, come all.
The workshop gets people to write, gives them insiders tips and guarantees they will come out feeling awesome.
'Don't be a 'writer'. Be writing' ~ William Faulkner
'Writing is the only thing that, when I do it, I don't feel I should be doing something else' ~ Gloria Steinem
'To write something, you have to risk making a fool of yourself' ~ Anne Rice
'Either write something worth reading or do something worth writing' ~ Benjamin Franklin
When all else fails write.
I've written stand up, speeches, TV comedy, opinion columns, serious articles and a novel through cancer, depression, writer's block, relationship breakdown, falling in love, three children, overseas travel, sickness, exhaustion and distraction.
I have been a professional full time writer, speaker and stand up, making not only a living, but a life, over 20 years.
My tips on how you can too. As much as I love writing I absolutely adore talking, teaching and motivating people to get the music out from inside them. I would love to be a teacher the only reason I'm not is because I can't spell berocracy, buearocracy, byooocrassy let alone deal with it.
Book now! Or hop on my mailing list so you get the heads up on the next one.
See you there. Bring your laptop, notebook and favorite pen or easel and paints! What ever it takes to get that writing out of you and on to the page where it belongs!
Love Dev x
Pricing Details
$ 290
Full / Employed
$ 250
Conc / student / unemployed /
under employed / artist / povo