I am proudly un-Australian. The whole sport, barbie, tanned, blonde and beachy business was never really me. For a while I identified more with my Irish heritage. It seemed a better fit: loud-mouthed, wide hipped, total disrespect for authority, love a good yarn and a plate of spuds. All with bad teeth.
But these days, I know what I am. I am a Melburnian to the core. If I wasn't born here, I would have moved here.
I love Melbourne. Which doesn't mean I can't love anywhere else. I'm with Samuel Johnson, "patriotism is the last refuge of a scoundrel". I adore the breathtaking glittering city of Sydney, and Tasmania is one of the most beautiful places that I have ever been. When I was in a plane on my way to Port Douglas a few years back, I spoke to people from Los Angeles who had been travelling for more than 24 hours. I said to them, "I promise, it's worth it." And it was.
The mercurial Melbourne weather allows you to wear all the clothes in your wardrobe and eat all the food you love. Melburnians are informed, opinionated, love a good feed and are always up for a chat. This time of year is particularly intoxicating. Blue skies, cool nights, clothes drying quickly but warm stuff in your belly for dinner and the kids in bed early. I wake up in Melbourne, but feel as if I have died and gone to heaven.
It's the Melbourne International Comedy Festival. I really, really love the Melbourne Comedy Festival. And no, I have not been asked to write something on the festival. I write compelled by love or truth. If I could be bought, I'd be turning tricks for advertising.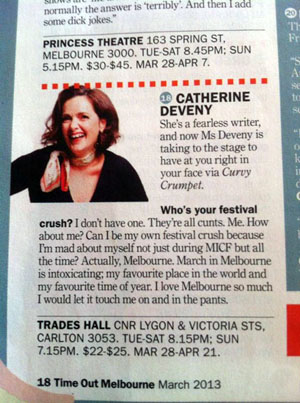 When I get my hot little hands on the festival program, my heart starts pumping as I go nuts with the red pen and the Post-It notes. I then sink as much as I can afford on tickets and babysitters. Then it's counting down the sleeps and it's on with the boots, tights, scarf and red lipstick and down to the Melbourne Town Hall. This dull, soulless building is transformed into an exhilarating, vibrant palace brimming with people queueing, blabbing in the bar or hanging round the coffee wagon waiting for their caffe lattes. Listen and you will hear every other person say: "This is amazing. Is it always like this?"
The whole experience is life-affirming and glorious. And the festival is like a drug; maybe it's more like gambling, as I promise myself: "OK, just one more show." People accost friends between shows with "What have you seen? When are they on? You've got to see him/her/them."
The beauty of this festival is that it is accessible and it's cheap. Some shows feel like a fun night out with mates, while others drag you abruptly out of your comfort zone. And others are crap and you slag them off on the way home. Which is all part of the experience. Watching the audience is almost as much fun as the show. You'll see all types: bogans, old folks, ladies from Malvern, Goths, students, pimply teens and suburban mums and dads all hoping for something to make their hearts sing.
I always get asked for suggestions. Because the programme can induce a bit of decision paralysis.  Here are my top ten picks. 
Rhys Nicholson filthy, wrong and insane. Five stars. Must see. Total genius.
Don't Peak At High School Crip comic Stella Young, adopted only child Fiona Scott-Norman, one-time girl Jacq de Vere and a rotating host of other comedy misfits on life after bottoming out at school.
Greg Fleet what a magnificent man and comedian. This year talking about the shame of substance abuse. 
Diana Nguyen in PhiL and Me The Vietnamese iconic sewing machine Mum, Kim Huong is insane and hilarious! Think Wogs Out Of Work. But a Vietmanese woman.
Khaled Khalafalla This guy is going to be famous. Smart accessible ethnic humour. And a spunk. 
Geraldine Hickey if you like your lesbians, laconic look no further. Equal parts hilarious and warm. 
Harley Breen Part bogan. Part genius. Solid pair of hands, cracking jokes and brillant physical comedian. 
Jack Dee an utter arseho
le, an old hand at comedy. Hates everything and everyone and touring again after six years because 'I want to spend less time with my family'
Aleisha McCormack rising star of Melbourne comedy. How To Get Rich (directed by Julia Zemiro) is Aleisha's second one woman show and has already had a sell out season at Fringe. 
Joel Creasy is an acid-tongued prince, a foodie, momma's boy and total bitch. See him before you have to go to Rod Laver Arena to do it. 
Margaret Cho if you like your comedy grown up, rude and transgressive, you've probably already bought tickets to Margaret Cho. If not. Get cracking.
Sarah Millican sweet and caustic Nominee Barry Award 2009 Melbourne Comedy Festival. Considered "The funniest woman in Britain." 
Stephen K Amos loves Melbourne and Melbourne loves Stephen. Slick, fast and piss funny.
Felicity Ward Returning to Melbourne for ONE NIGHT ONLY! The Hedgehog Dilemma was nominated for Best Comedy at every major comedy festival across Australia in 2012. As it bloody should have been.
Denise Scott and Judith Lucy Can't. Go. Wrong. Like spending the evening with your naughtiest aunties.
The List Operators Looking for a family show that's not childish, patronizing and will have you all fully coughing your lungs up, this is it. 
Here are some wild cards….. Some young up and coming ones to watch Sam Peterson and Andy Matthews, Headliners, bunch of expert US comics and Best Of British is always good.
I'm also doing a show called Curvy Crumpet, "Brassy… the audience were delighted" The Age. It was also picked in the Time Out Melbourne Comedy Festival Top 20 (see clipping above). Love to see you. I'm thrilled with it and the big noisy audiences are loving it. 8.15pm Trades Hall. 
See something. Anything. Book a night. Do three shows. I'll babysit for you. Don't turn around and say: "I meant to go." There's plenty of time to sleep when you're dead.